ISKCON Ministries are headed by ministers who are individuals appointed by the GBC to become expert in their field and oversee a specific mission, such as Educational Development, Book Distribution, Communications, and Congregational Development. Ministers advise, assist, and promote their assigned ministries, and educate zonal secretaries and ISKCON leaders in how to take practical steps towards achieving their Statement of Mission. All ISKCON ministers submit an annual report to the GBC and are invited to attend the GBC's Annual General Meeting.
Ministry of Communications
Minister – Anuttama Dasa 
The Office of Communications for the International Society for Krishna Consciousness (ISKCON) works to create and sustain favorable environments for advancing the goals of the Krishna consciousness movement by establishing and maintaining confidence and faith in the integrity of the movement's members and its mission. As such we are committed to helping ISKCON be a respected and influential religious organization all over the world.
In essence, ISKCON Communications builds bridges between ISKCON as an organization (and sometimes the Vaishnava faith as a tradition) and key audiences. These audiences include the media, academia, government officials and NGOs, interfaith groups, the broader Hindu community, and – perhaps most importantly – our internal audience of Hare Krishna devotees, practitioners and congregational supporters.
Some of our work with the media includes the sending out of media releases (subjects will range from ISKCON events, such as a Ratha Yatra parade, to ISKCON's response to issues of concern in the world), consultation with reporters and producers who are interested in better covering ISKCON or related topics, creating resource materials such as the ISKCON media kit, and occasionally responding to misleading, erroneous, or biased portrayals in the media.
We help the academic community by providing them with case studies to explore and write about, and by offering the practitioner's view to  their study of the faith.  We attend academic conferences and provide guest speakers in University classes.  In addition, we help to connect others (such as the media) with scholars who are experts on the Hare Krishna movement and the Chaitanya Vaishnava tradition in which it is rooted.
ISKCON's Office of Communications also works with government officials (on local, regional, national and international levels) to help them better serve the needs of a religiously diverse world. We also seek to ensure that ISKCON's activities are harmonious with government policy, and that government policy is being exercised in a fair, neutral and even-handed manner.
We also work with representatives from other faith traditions, as well as organizations that represent other Hindu sampradayas, in a spirit of mutual cooperation to further shared concerns and learn from one another's practice.  We sponsor and take part in dialogues, and help to involve ISKCON in faith-based service projects with other faith organizations. ISKCON Communications is also involved in a formal way with several umbrella interfaith and Hindu collectives.
Finally, we help to bridge individual ISKCON members with one another, with the leadership of ISKCON and with the general society.  We maintain the organization's news site, sponsor gatherings and conferences, and undertake projects and initiatives to empower our members to better represent the ideals of ISKCON and its Founder-Acarya, His Divine Grace A.C. Bhaktivedanta Swami Prabhupada.
One of the core tenets of the Vaishnava faith is that one should utilize whatever is favorable for devotional service (bhakti) to Krishna. Thus, devotees may use modern technologies, practices, and skills – but because they do so to serve God, these seemingly "material" devices become spiritualized. Communications and marketing activities are neither good nor bad; it depends on the purpose for which one uses them. They can be used to manipulate people's desires and egos to increase greed and envy, leading to a more materialistic world.  However, they can also be used in the Lord's service, to help people understand and appreciate the significance and relevance of spiritual life.
The effective use of communications has helped the public to become more aware of and informed about ISKCON's contributions to the wider society. It has helped to counter the misinformation and stereotype that minority faith traditions sometimes face, and has enabled us to bring ISKCON's valuable theological and philosophical outlook to diverse dialogues and forums.  Perhaps most importantly, effective communications allows us to serve as a mirror to ISKCON to demonstrate to the organization what the perception of our faith is in the world, what the needs and interests of the world around us are, and how we can take concrete proactive steps to become the type of meaningful, relevant service organization that we have the potential to be.
Our Principles
We believe that in order to fulfill our mission – to help ISKCON be a respected and influential religious organization all over the world – we must adhere to the following principles and values. These principles represent the spiritual foundation upon which we base our communication.
Consistency with Srila Prabhupada's teaching and example
Appropriate consideration of time, place, and circumstance
Pro-activity
Building interdependent relationships
Maintaining exemplary character and behavior
Deity Worship Ministry
Minister – Nrsimha Kavaca Das
The ISKCON Deity Worship Ministry facilitates and encourages the maintenance and development of deity worship according to Srila Prabhupada's example and teachings by offering education, resources and guidance to inspire and nourish devotees' desire to worship the deity form of the Lord. Additionally, we strive to foster within ISKCON the corresponding brahmana Vaisnava culture centered on the service and worship of the Supreme Lord, Sri Krsna.
The Ministry is very active in developing and offering training, which includes:
Mayapur Academy (deity worship school)
seminars on deity worship
on-site training and evaluation to managers and pujaris at ISKCON centers worldwide
educating ISKCON leaders in the importance of deity worship
We also offer various resources to assist devotees in the worship of the Lord, including:
periodicals and manuals
Internet-based information
training videos
Congregational Development Ministry
Minister – Jayapataka Swami, Co-Minister – Kaunteya Dasa

The Ministry actively collaborates with ISKCON affiliates worldwide to facilitate the spiritual growth of individuals and communities according to the teachings of Srila Prabhupada.
We offer consultancy, education and networking to assist the International Society for Krishna Consciousness to develop and expand its communities in accord with the following principles:
A deeply caring attitude for all members, according to their stage in life and their different levels of needs
Promoting the engagement of all devotees in outreach and their empowerment in taking responsibility in the mission
Organizing all practitioners in small groups for intimate exchanges and the building of friendly relations; regular supervision and support
Temples as tirthas for inspiration and exemplary behavior; enthusing large gatherings and festivals
Ongoing systematic training and education
To facilitate these objectives:
We design and present courses
We produce, translate and circulate books, articles, supporting materials and audiovisuals
We assist in organizing festivals and conventions
We remain updated on innovations and trends from both inside and outside ISKCON
We support the Ministry's specialized divisions: ISKCON Prison Ministries and the Armed Forces Outreach Ministries
ISKCON Youth Ministry
Minister – Manorama Dasa

Our mission is to inspire, train, engage and empower youth in Krishna consciousness to their fullest potential.
We work with volunteers to create environments favorable for our mission. We'll share information and success stories on this website and hope that you will be inspired to start similar programs in your community.
History
ISKCON Youth Ministry is affiliated with ISKCON, the International Society for Krishna Consciousness, Founder-Acharya His Divine Grace A.C. Bhaktivedanta Swami Prabhupada, a branch of the Gaudiya Vaishnava tradition within Hinduism dating back to antiquity. At the age of 69, Srila Prabhupada took up the order of his spiritual master and journeyed to the West to awaken Krishna consciousness within the hearts of people suffering due to rampant materialism and identification with the temporary body, caught up in a cycle of birth, death, disease and old age. He taught that we are not these bodies, but the eternal soul within. He showed us life on a path of sainthood, progressing to a transcendent spiritual reality that is ever joyful, everlasting, and can be attained even while in this material world. Our life can become sublime by switching our selfish "I, me, mine" consciousness to selfless Krishna (God) consciousness, transforming lust into love of God through loving devotional service to the Supreme Personality of Godhead, Sri Krishna, our eternal Father, friend, and well-wisher. In gratitude to Srila Prabhupada and to his dear disciples, we humbly attempt to pass on to others the gift he gave us.
Ministry of Education
Minister – Sesa Dasa
Other Members: Saunaka Rsi Dasa,  Yadunandana Swami, Radhika Raman Dasa

The Ministry of Education's mission is to facilitate, administer and develop ISKCON's educational system. The MED is primarily an empowering body, facilitating education and educators, therefore recommending principles, guidelines and values. It is also involved with issues of assessment and accreditation for educational initiatives and institutions. Thus the MED takes moral responsibility for the development of education in ISKCON but otherwise it does not directly control any facet of the implementation of education. This is left to the array of educational initiatives already existing.
Vaishnavi Ministry
Minister – Radha Dasi (California)           
Regional Ministers Russia/CIS – Sati devi dasi and Ekanga devi dasi
Regional Minister Australia – Krishnarupa devi dasi
Regional Minister North America – Govinda Priya devi dasi  
Our Mission is to promote a culture of open-hearted empowerment for Vaishnavis through association, education, representation, support and service.  We work together to preserve Srila Prabhupada's legacy, especially in relation to Vaishnavis, to provide facility for Vaishnavi sanga and training, to increase opportunities for Vaishnavis to engage their talents in devotional service, to give Vaishnavis a voice in our society, and to build networks of support for Vaishnavis. Please visit our website at vaishnaviministry.org
Ministry of Sannyasa Services
Minister – Prahladananda Swami
Other members: Sivarama Swami, Guru Prasad Swami, Bhaktivaibhava Swami, Bhakti Caitanya Swami, Hridaya Caitanya Das

Ministry of Book Distribution
Minister – Vijay Dasa

Web Site: https://www.iskconbookdistribution.com/
Email: Vijaya.HDG@pamho.net
Ministry of Cow Protection & Agriculture
Minister –  Kalakantha Das, Govindananda Das
The ministry may be reached through the webpage or FB page.
Purpose
The ministry of Cow Protection and Agriculture bases its activities around the seventh purpose of ISKCON which is to bring the members closer together for the purpose of teaching a simpler and more natural way of life.
Mandate
The GBC Ministry of Cow Protection and Agriculture advises and assists ISKCON leaders, offering education on cow protection and agroecology for a  simpler, more natural way of living, according to Srila Prabhupada's teachings, standards and example. (Mandate under construction)
– Support/ educational / informational services provided ( point form) 
Global farm/ goshala directory
Farm Conference Cycle- happens in each continent bi annually
Consultancy network
Education structure under construction

– Regulatory services provided ( if applicable) ( point form) 
Certificate of readiness
– Languages of service available
Regional availability / English, Russian, Portuguese, Hindi,
GBC Minister of Cow Protection and Agriculture ( IMCPA )
Kalakantha das ( Carlos Queiroz)
Since 2015, he is the GBC minister of Cow Protection and Agriculture. He has worked as a member of SPN (Strategic Planning Network) since 2013. Born in Brazil from a family of farmers and agriculture professors, he has worked with farm communities for the last 25 years and holds a degree in agriculture. He has visited practically all the ISKCON farms around the world and is building an ethical cow protection equation for ISKCON. Kalakantha das believes in the power of producing our own food and currently runs the ISKCON Continental Farm Conferences Cycle, with the help of a vibrant network. These conferences are already established in Europe, North and South America and are being launched in Russia, Ukraine, Australia and South-Southeast Asia.
He is based in Sri Dham Mayapur with his family.
Ministry of Padayatra
Minister – Lokanath Swami
Mandates of entity ( brief )
GBC Resolution (year 1991) – "To bring the congregational chanting of the holy name to every town and village of the world through organized
padayatra festivals!"
Contact information:Email address for Padayatra Minister: Lokanath.Swami@pamho.net
Email address for Ministry: padayatraiskcon@gmail.com
Website: http://www.padayatra.com/
Facebook Page: https://www.facebook.com/ISKCONPadayatraWorldwide/
Regional representatives:
Padayatra Ministry's Coordinators:
Gaurangi Devi Dasi – gaurangi.lok@gmail.com
Meghashyam dasa (Dr Manoj Barai) +91 7769006060
Regional Representatives:
INDIA
All India Padayatra – Acarya Dasa, +91 9890939782.
Maharashtra Padayatra – Damodarlila Dasa, +91 9049577556
Uttar Pradesh Padayatra – Ritudvipa Dasa, +91 7058222165.
Andhra Pradesh- Radhavallabha Dasa, +91 8919387849
One Day Padayatra –Murali Mohan Dasa,
muralimohandas_lok@hotmail.com +91 9824933098, Ahmedabad.
Noida –Vrndavan Padayatra – Radhakunda Dasa,
radhakundadas.lns@gmail.com +91 8128644656.
Vaishnavi Padayatra and Little Vaishnavas Padayatra- Jayabhadra Devi Dasi, +91 8007630593, jyoti_khadse@rediffmail.com
Vraja Mandal Parikrama- Istadeva Dasa, istadevadas108@yahoo.com
+919593648074, Brajbhumi Dasa – +91 9415113744.
Baroda to Dakor Padayatra, Sanatana Kripa Dasa,
dassanatankripa@gmail.com +91 9723304103.
Maharashtra dindi padayatra – Dehu to Pandharpur via Pune, Keshava Dasa, +91 94225 68259
Navadvipa-mandala Parikrama- Istadeva Dasa, +919593648074
Sri Ksetra Parikrama- Istadeva Dasa, +919593648074
CZECH REPUBLIC
Muni Priya Dasa – muni.priya@gmail.com
Nrsimha Caitanya Dasa – bh.prahlad@gmail.com or prahlad@email.cz
www.padayatra.cz
HUNGARY
Prabhupada Jivana Dasa – petermezei86@gmail.com
RUSSIA
Narada Dasa (Novisibirsk) – bhajayavina@gmail.com
108sankirtana@gmail.com +38 0685108108
SLOVENIA
Urukrama Dasa – urukrama.rns@gmail.com
Mukunda Dasa – mukunda.sdhs@gmail.com
Ananta Dasa – ananta.rns@pamho.net
UK
Dàyalmora dasa – dayalmoradas@gmail.com
Parasurama Dasa – foodforalluk@gmail.com (+44) 07946420827
CANADA
Bhaktimarga Swami, the walking monk
bhaktimargaswami@pamho.net
Blog : «www.thewalkingmonk.bolgspot.ca »
Website: www.thewalkingmonk.net
MAURITIUS
Ayodhyanath Dasa : ayodhaya108@gmail.com
Support/ educational / informational services provided ( point form)
Srila Prabhupada books are distributed throughout the year.
Harinama Sankirtana is done.
Visit remotest places where people hardly know about ISKCON.
Deity darsana, morning program, sankirtana, books, katha and prasada.
Distribute chanting beads, connected villagers to ISKCON
Languages of service available
English. Different countries' Padayatra leaders communicate in their vernacular.
Links to any policy documents, brochures, other relevant information
Padayatra booth at the ISKCON Leadership Sanga in Mayapur
Padayatra manual (English) – http://www.padayatra.com/padayatra-manual/
The Annual Padayatra Newsletter. 2009 to 2020 can be downloaded from www.padayatra.com
Published Books: Contact padayatrapress@gmail.com
• On the road with Lord Caitanya by Lokanath Swami (English). Volume 1 of the Padayatra Trilogy
https://www.amazon.in/Padayatra-Worldwide-Lokanath-
Swami/dp/819356359X/ref=sr_1_5?dchild=1&qid=1591768710&refinements=
p_27%3ALokanath+Swami&s=books&sr=1-5&text=Lokanath+Swami
• Vraja-mandala Darsana by Lokanath Swami – (English and Hindi)
A 30 day parikrama experience during Kartika
https://www.amazon.in/Vraja-mandala-Darsana-English-Lokanath-
Swami/dp/0620652063
• Following a Prophecy by Avadhuta Siromani Dasa Amazon
https://www.amazon.com/Following-Prophecy-Avadhut-Siromani-Das-
ebook/dp/B06XK5ZS6J
Ministry of Justice
Minister – Sesa Dasa
ISKCON Dispute Resolution Office
Ministry of Justice: ISKCON Dispute Resolution Office
Director – GBC EC, pending nomination

Ministry of Fund Development
Minister – Devakinandan Dasa
Sastric Advisory Council
Core members
Adi-purusa Dasa
Adi Purusha Dasa, a brahmacari, has been an active member of ISKCON since 1989, and is a disciple of Gopal Krishna Goswami. In 1990 he joined the ISKCON temple in Lviv, Ukraine, where he served as a book distributor. He was a member of the Ukrainian BBT for over ten years where he translated the Caitanya-Caritamrita, parts of the Srimad Bhagavatam and other devotional works. Adi Purusha Dasa moved to Vrindavan in 1999 where he now studies and teaches sastra. He currently teaches Bhaki Sastri and Bhaktivaibhava courses in Europe and India.
Brijabasi Dasa
Brijabasi Dasa joined ISKCON in the Ukraine in 2000 where he served as a secretary to the Regional Secretary, as a temple secretary, and later as a teacher at the Kiev Temple Vaisnava Academy. He undertook several Bhakti Sastri courses while in Kiev. In 2001 he moved to the brahmacari ashram in Kiev Temple. Brijabasi Dasa is a disciple of Indradyumna Swami. In 2006 he married and began to study Sanskrit and Bengali. He has translated a number of articles written by Bhaktivinoda Thakura and Bhaktisiddhanta Saraswati or his followers, which had been originally published in the Bengali periodicals of the Gaudiya Math between 1920 and 1930. Brijabasi Dasa is an active researcher for ISKCON writers such as Bhakti Vikasa Swami and Satyaraj Dasa. He teaches at the Vaisnava Academy in Kiev, the Mayapur Institute, and at academic conferences on Hindu and Vaisnava Studies in the Ukraine. He has been a member of the Sastric Advisory Council since 2012.
Hari Parshad Dasa
Hari Parshad Dasa is a disciple of Radha Govinda Das Goswami, and joined ISKCON in 2002. He was born in a Gauda-sarasvata brahmana family in Mumbai. His father and grandfather are both devotees of Sri Sri Rukmini Vitthala of Pandharpur. Hari Parshad Dasa learned Sanskrit in the traditional way in his childhood and was taught the Laghu-siddhanta-kaumudi of Pandita Varadaraja. Between 2002 to 2007 he served as a book distributor, and organised programs and seminars for ISKCON youth in Juhu.  He has also written Sanskrit verses in the Citra-kavya style. In 2007 Hari Parshad Dasa was appointed assistant editor of Gopal Jiu Publications. Hari Parshad Dasa is an accomplished Sanskrit scholar, having studied the Astadhyayi, the complete four thousand sutras by Panini and completing a translation with commentary of Bhakitvinode Thakura's Manah-siksa in 2015. He currently compiles a fortnightly e-magazine called "Sri Krishna Kathamrita Bindu" where he regularly contributes fresh translations and articles. He holds a Master's Degree in Information Technology, graduating with distinction from the Manipal University in 2012. He is married with a son. Hari Parshad Dasa has been a member of the Sastric Advisory Council since 2016.
Narayani Devi Dasi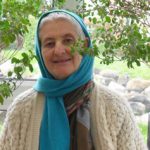 Narayani Devi Dasi joined ISKCON Boston in 1970 when she was a music student of Northwestern University. She is a disciple of Srila Prabhupada and is currently in the vanaprastha order, with a grown son. Narayani Devi Dasi has taught courses at the VIHE which include: Bhakti Sastri, Bhakti Vaibhava, and Bhaktivedanta. She has helped to write the VTE curriculum for the Bhakti Sastri course and has also written a series of fourteen books. The literature she has produced includes Srimad Bhagavatam at a Glance, which has a picture for every verse of the Bhagavatam, as well as Bhagavad-gita at a Glance, which has a picture for every verse of the Gita.
Sarvajna Dasa
Sarvajna Dasa was born in Belarus, former Soviet Union, in 1971. He joined ISKCON in 1995 and has lived in the brahmacari order since 1998. Sarvajna Dasa is a disciple of Niranjana Swami. Sarvajna Dasa taught Sanskrit and philosophy at the BBT Sanskrit School between 2006 and 2011. He has lived in the Bhaktivedanta Ashram in Moscow since 2011, editing works by the acaryas in both Russian and English. He teaches Bhakti Sastri and Bhakti Vaibhava courses, delivering lectures and seminars in both India and the former Soviet Union. Sarvajna Dasa is currently the Secretary for Niranjana Swami and has been on the Sastric Advisory Council since 2013.
Urmila Devi Dasi (Chair) 
Urmila Devi Dasi has served ISKCON continuously since her initiation by Srila Prabhupada in 1973. She and her husband have been in the vanaprastha order since 1996. They have three married children, 14 grandchildren (three of whom are married), and a great-grandson. Urmila Devi Dasi has a master's degree in school administration, a Ph.D. in education, was a primary and secondary school teacher for 27 years, and has 19 years of experience with school management. She has taught the entire Bhakti Sastri course over 15 times. She is an associate editor of "Back to Godhead" magazine, (since 1990) and a professor of Sociology of Religion at Bhaktivedanta Collage. She is on the editorial board of "Balijytih: International Journal of Theology, Philosophy, and Eastern Culture." She is the author of dozens of "Back to Godhead" articles, Dr. Best Learn to Read, an 83-book literacy program, and The Great Mantra for Mystic Meditation. She has produced a fully illustrated edition of Raghunatha Dasa Goswami's Sri Manah Siksa with Bhaktivinoda's commentary along with the commentaries of contemporary Vaisnavas. Urmila Devi Dasi travels worldwide teaching Krishna consciousness and has been a member of the Sastric Advisory Council since its creation in 2002.
Associate members
Bhakti Vijnana Goswami
Bhakti Vijnana Goswami was born in Tashkent, former Soviet Union. He took to spiritual life in 1980, during a difficult time during the communist era in the former Soviet Union, when the National Security forces were harassing any type of spiritual practitioner. Despite these obstacles, Bhakti Vijnana Goswami—a scientist, a Moscow State University graduate and postgraduate student at Institute of Molecular Biology—decided to experiment with the Hare Krishna mantra. To his great happiness, it moved him profoundly. He is a disciple of Radhanath Swami and resides primarily in Moscow, Russia, working tirelessly towards the building of a monumental temple there. He travels widely throughout Russia sharing Krishna Consciousness.
Since 1997 Bhakti Vijnana Goswami has acted as a member of ISKCON's Governing Body Commission and since 2005 has served as one of the initiating gurus of ISKCON. His zonal responsibilities include Georgia (CIS) and Israel. He serves as co-zonal secretary for Eastern and Western Siberia, Northwest CIS, Ural Region, Moscow, Southern, Central Region, CIS, Golden Ring, Armenia, Far East and also co-GBC for North and South Korea.
On July 1, 2010 the Council for Public Awards of the Russian Federation awarded Bhakti Vijnana Goswami a medal "for professional and business reputation" third degree, "for his contribution in strengthening Russian-Indian friendly relations, and for his contribution to the popularization of the spiritual-cultural literary heritage of India."
His affiliated web sites are www.goswami.ru  www.saranagati.ru
Chaitanya Charana Dasa
Chaitanya Charan Dasa is a disciple of Radhanath Swami and is a brahmacari based in Chowpatty. An engineer by educational background, Chaitanya Charana Dasa has over two decades of serving in college outreach preaching with a special interest in the scientific presentation of bhakti. Known especially for his logical question-answers, he has spoken at prominent colleges, international conferences, and companies worldwide. Chaitanya Charan Dasa is an associate editor of "Back to Godhead" magazine and has authored over 20 books, including several responding to contemporary criticisms of religion. He is the author of the world's only 'Gita-daily feature,' wherein he has written over 2500 daily meditations on the Bhagavad-Gita.
Drutakarma Dasa
Drutakarma Dasa is a disciple of Srila Prabhupada and a renunciate. He joined ISKCON in 1974 at the Washington D.C. temple. Drutakarma Dasa has written articles for "Back to Godhead" magazine and serves as an associate editor. He is co-author of the BBT publications Chant and Be Happy, The Higher Taste, Coming Back, and Divine Nature. In the science field he is co-author of the magazine "Origins" and of the books Forbidden Archaeology and The Hidden History of the Human Race. He has authored Human Devolution: A Vedic Alternative to Darwin's Theory, The Forbidden Archaeologist, Forbidden Archaeology's Impact, and My Science, My Religion (a collection of 24 papers he has presented at international scientific conferences). Drutakarma Dasa lectures at scientific conferences and universities and has appeared many times on television and radio. In his research he explores ideas about human origins and antiquity, consistent with the accounts given in the Srimad Bhagavatam. He has been a member of the Sastric Advisory Council since its creation in 2002 and belongs to the executive committee of the Temple of Vedic Planetarium Exhibits Group.
Gauranga Dasa
Gauranga Dasa is a disciple of Radhanath Swami and is a brahmacari. He is the Director of the Bhaktivedanta Academy for Culture and Education (BACE) which was established in 2006. The Academy conducts regular Bhakti Sastri courses, and Gauranga Dasa gives bi-monthly seminars on the Srimad Bhagavatam. He has recently been appointed the Director of the Bhaktivedanta Research Centre in Kolkata. He is Dean of the Bhaktivedanta Vidyapeeth, an academic institution based at the Govardhan Ecovillage which was established in 2012. (Bhaktivedanta Vidyapeeth offers a two-year full-time study program on the Srimad Bhagavatam and Sri Caitanya Caritamrita.) He gives regular classes at the Bhaktivedanta Vidyapeeth, and is also a member of the council of advisors of Dharma Civilization Foundation (DCF). Gauranga Dasa is a co-temple president at the ISKCON Govardhan Eco Village, and Vice President of ISKCON Chowpatty Temple. He is the Director of Devotee Care, Temple Development, Systems and Admin for ISKCON, and Chairman of ISKCON Western India Divisional Council. He has been a member of the Sastric Advisory Council since 2016.
Giriraj Swami
In March 1969 while studying at Brandeis University in Boston, Giriraj Swami met Srila Prabhupada, from whom, he felt, he learned more in one brief exchange than he had learned in his many years of academic education. After graduating from Brandeis cum laude, he accepted formal initiation from Srila Prabhupada. Giriraj quickly became a leading member of the Boston center, and he was soon given the opportunity to go to India with Srila Prabhupada and helped establish Prabhupada's mission there.
In 1972, he was appointed by Prabhupada to be president of ISKCON Bombay and trustee of the Bhaktivedanta Book Trust. Since then, he has made many significant contributions to Srila Prabhupada's mission, most notably overseeing all aspects of the development of Hare Krishna Land in Juhu, Bombay. He was instrumental in the acquisition and development of Bhaktivedanta Ashram in Govardhan and led the development of the Kirtan Ashram for women, the Bhaktivedanta Hospice, and the Vrindavan Institute of Palliative Care, all in Vrindavan. In the year following Srila Prabhupada's passing in 1977, he was awarded the renounced order of life and appointed president of ISKCON's board of trustees in India. In 1982 he was appointed to ISKCON's Governing Body Commission, and he went on to oversee the Society's activities in Bombay, Mauritius, South Africa, Spain, Portugal, Sri Lanka and Pakistan. Giriraj Swami has also taught at the VIHE and continues to lecture and to give presentations at retreats and workshops around the world. He has written several books on ISKCON devotees and history.
Gopal Hari Dasa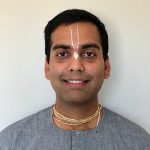 Gopal Hari Dasa is Associate Professor of Religion at the University of Evansville (UE), Indiana. At UE, Gopal Hari teaches courses in World Religions, Science and Religion, and specialized courses on sacred texts such as the Mahabharata. He also serves as the editor for theJournal of Hindu-Christian Studies (JHCS). JHCS is a widely read, peer-reviewed, journal in the field of comparative religion. He has also authored various articles published in academic books and journals. Gopal Hari holds a D.Phil. in Religious Studies and an MsT in Science and Religion from Oxford University. He wrote his D.Phil. dissertation on the Srimad Bhagavatam, focusing particularly on the Bhagavatam's discussion on maya and the problem of suffering.  His dissertation has been transformed into a book, and will soon be published by Oxford University Press. Gopal Hari is a disciple of Gopal Krsna Goswami. He serves as the president of the ISKCON community in Indianapolis. He and his wife have a one-year-old child.
Gopinathacarya Dasa
Gopinathacarya dasa, a disciple of Kadamba Kanana Swami, is currently a fellow of the Oxford Centre for Hindu Studies, and a tutor at Bhaktivedanta College, Belgium. He joined ISKCON in 1999, is in a renounced asrama, and assisted the Dutch BBT for some years in the early 2000s. He holds a DPhil in Theology from the University of Oxford, where he successfully defended his thesis on the poetry and poetics of Kavikarnapura in 2010, and a BA and MA in Oriental Studies from the University of Ghent, Belgium. He has been a tutor at Bhaktivedanta College since 2005, teaching courses on Hinduism, Vedas and Upanisads, Sanskrit Poetry, and Rupa Gosvami's Bhakti-rasamrta-sindhu. His research interests are Sanskrit poetry and poetics, early Caitanya Vaisnava history, and Sanskrit hermeneutics. He is a member of the Academic Advisory Board of the Bhaktivedanta Research Centre, Kolkata, as well as an editor for the "Journal of Hindu Studies," published by Oxford University Press.
Haridev Dasa
Haridev Dasa, a disciple of Sivarama Maharaja, first read Srila Prabhupada's books in 1992, and joined ISKCON as a full-time devotee two years later. Harideva Dasa is a brahmacari and is presently serving as temple president at Krasnodar, Russia. He studied Sanskrit from Gopiparanadhana Dasa and Matsya-avatara Dasa, gaining the experience of translating acaryas' commentaries. He has published several devotional books and regularly teaches Bhakti Sastri courses. In the spring of 2013 he was appointed as president of the Krasnodar Society of Krishna Consciousness. In 2014 as part of the Krasnodar temple, he started a new educational asrama that teaches both basic and advanced devotional study. In 2014 he took part in writing an article for the sake of protecting ISKCON Russia from the assault of pseudo-tattvavadi. In 2015 he was asked to participate as an author in "Vaisnavism: Open Forum" magazine (the Russian analogue of ICJ), and has contributed articles.
Kanai Krishna Das
Kanai Krishna Das is a disciple of His Holiness Radhanatha Swami. He joined ISKCON in 2001. Currently he serves as a full time monk in ISKCON Pune, India. After completing his graduation in mechanical engineering in 2004, he worked with several MNCs such as Honeywell Corporation, FMR Corporation and Transcend technologies. He joined as a full time monk in year 2011. Since then he has rendered services as a preacher of Krsna consciousness to student and corporate youth. He is a Sanskrit scholar with expertise in Paninian Grammar. He teaches Sanskrit grammar, Sanskrit commentaries on Bhakti Shastras as well as courses like Bhakti Shastri to students at ISKCON Pune. He is also part of management committee of deity worship department at ISKCON Pune and looks after training the newly initiated brahmanas into philosophy and practices of deity worship.
Krishna Kshetra Swami 
Krishna Kshetra Swami is a disciple of Srila Prabhupada, initiated in 1972. In 1995, as coordinator of a research group, he compiled and published Pancaratra-pradipa (in 2 volumes), a manual for Caitanya Vaishnava temple worship. He also served ISKCON's GBC as the minister for Deity worship from then until 2005. In 2004, after eight years of university study (resuming his interrupted studies from 1972), he received a Ph.D. degree from the University of Oxford (St. Cross College), for his dissertation on Caitanya Vaishnava image worship, now available from Routledge Publishers as Attending Krsna's Image: Caitanya Vaisnava Murti-seva as Devotional Truth (2006), as a book in the Routledge Hindu Studies Series. Krishna Kshetra Swami is now a Research Fellow of the Oxford Centre for Hindu Studies. He also teaches at Bhaktivedanta College, Radhadesh, since 2002. He recently taught survey courses in Indian religions and Asian religions in the Religion Department at the University of Florida, Gainesville. In September 2007 he taught for one year at the Chinese University of Hong Kong. He has also given lectures at universities in Central Europe. Amidst academic work he also travels extensively, teaching about spiritual life.
Krsnabhisek Dasa 
Krishnabhishek das holds a doctorate in South Asian Studies and Religious Studies and his dissertation was on Bhaktivinoda Thakur's vision of Vaishnavism and the West. He was born and brought up in a Vaishnava family in Calcutta, India and was initiated by HH Tamal Krishna Goswami in 2001. His research interests spans the history of Gaudiya Vaishnavism but focuses on the nineteenth century. He has published various research articles and book chapters in the Journal of Vaiṣṇava Studies and other scholarly books. He is currently a professor of Hinduism and World's Religions and currently lives in Michigan, USA.
Radhika Ramana Dasa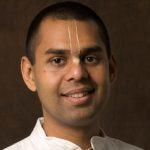 Radhika Ramana Dasa holds the Charles Redd Chair of Religious Studies at Utah State University. He is the author or editor of four books as well as numerous articles published in academic books and journals. He has received three teaching awards and two research fellowships. Radhika Ramana completed his Ph.D. on the Sandarbhas of Srila Jiva Gosvami from Oxford University. His first book, The Caitanya Vaisnava Vedanta of Jiva Gosvami, is a detailed study and translation of Jiva Gosvami's commentary on the first 5 sutras of the Vedanta Sutra. More recently, Radhika Ramana co-authored (with Krishna Kshetra Swami) a book on the Srimad Bhagavatam for Columbia University Press. In 2008, he had the opportunity to meet with Pope Benedict XVI on behalf of the Hindu American community. Radhika Ramana grew up in Boise, Idaho, where his parent's home-schooled him using a curriculum based on Srimad Bhagavatam. He is a disciple of Hanumatpresaka Swami. His parents run the ISKCON temple in Boise, Idaho, and his mother, Aruddha devi-dasi, is well known for her book and seminars on home-schooling by using the Bhagavatam as the main textbook. He is married with two sons. Radhikaramana was a columnist for Back to Godhead magazine for many years starting at the age of 12.[
ISKCON Property Office
Members – Current GBC Executive Committee, Bhaktarupa Dasa (Member-Secretary)
Central Office of Child Protection
Director – Kamalesh Krishna Das

Our mission is to protect the children of Srila Prabhupada's movement from child abuse and neglect. By doing so, we strengthen the future of the movement – the children – while providing an example to the world of a spiritual society that practices compassionate caring and protection.
Investigating and adjudicating past and present cases of alleged child abuse
Supporting victims of mistreatment when they were children under the care of the organization
Establishing prevention programs to help temples and schools establish child protection teams and screening programs for staff and volunteers
Establishing education programs to assist temples and schools create child protection education programs for managers, teachers, children, parents and other community members
Acting as a resource and guidance center for all child protection concerns
For more information, visit https://www.iskconchildprotection.org